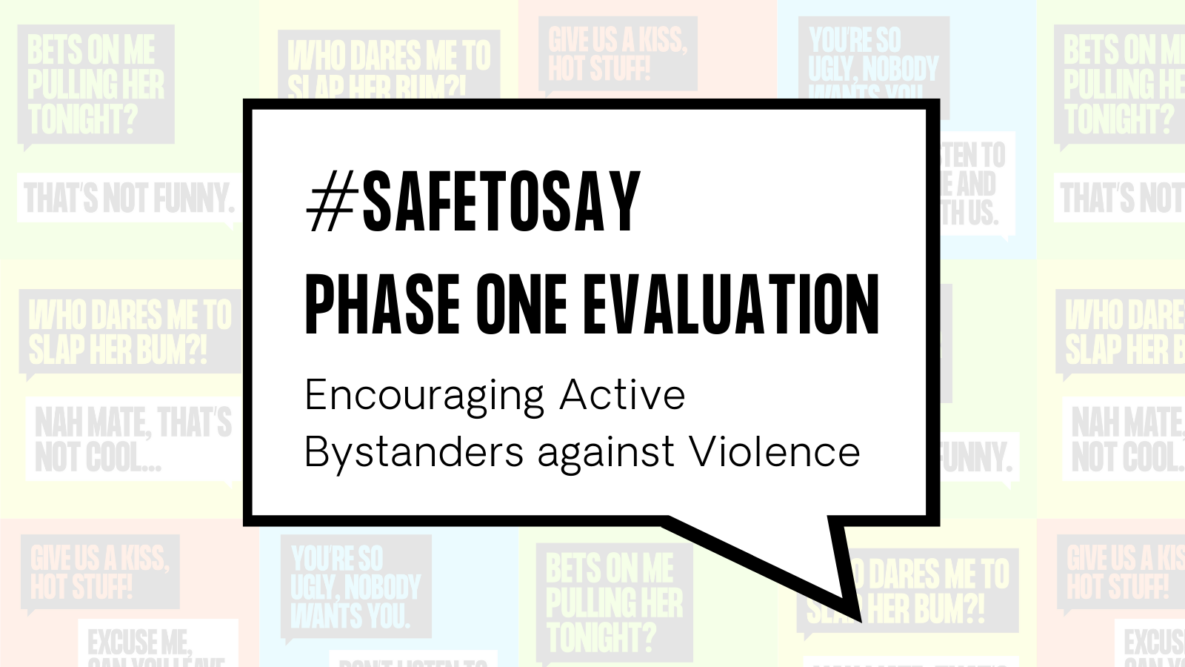 An evaluation of the Wales Violence Prevention Unit's #SafeToSay campaign has found it to be an effective method of engaging people in the prevention of sexual harassment and violence in nightlife by empowering bystanders to act when they witness it.
The campaign, which has been developed in collaboration with the Good Night Out Campaign and with support from Welsh Women's Aid, depicted scenarios where bystanders safely spoke out against sexual harassment , either by supporting the victim or interrupting or distracting the perpetrator.
The recent evaluation is of Phase One of #SafeToSay, which ran between June and July 2021 in Cardiff and Swansea. The evaluation found that Phase One of #SafeToSay met all of its objectives by enhancing awareness of sexual harassment in the night time economy and encouraging prosocial bystander behaviours in responses.
"Preventing violence against women and girls is a key priority for me and has been since I first became Commissioner. We have made progress, but the significant threats remain real and are constantly changing, so we need to be relentless in our collective efforts to reduce the intimidation, harassment and violence experienced by women and girls. Harmful attitudes and behaviours need to be challenged, not tolerated, and that is particularly true in the night time economy and on social media – two environment in which it sometimes seems that "anything goes". That's not right, and in both cases we have to encouraging bystanders to identify and call out bad behaviour – and find ways of enabling them to do so without putting themselves at risk too.

"The Wales Violence Prevention Unit #SafeToSay campaign supports this approach by understanding the powerful impact that family, friends, colleagues and acquaintances can have on individuals by challenging their behaviour. I am extremely pleased that the evaluation has demonstrated the success of the campaign in enhancing awareness of sexual harassment and helping people identify harmful sexual behaviours, whilst also providing them with the skills and confidence to safely challenge issues they may witness. We must strive to do more and I look forward to this campaign extending its reach and impact across our communities, further contributing to the safety of women and girls in South Wales."

Police and Crime Commissioner for South Wales, Alun Michael
"Whilst we know that nightlife does not cause sexual violence, there are many factors associated with it, such as overcrowding and alcohol consumption that can exacerbate conditions for sexual violence to occur.

"Empowering people to act when they witness harassment or sexist jokes excused as "banter" can be an effective way of preventing escalation to more severe forms of violence, such as sexual assault.

"With this campaign, we sought to shift people's attitudes on what constitutes harassment, so we can stop violence before it occurs."

Jon Drake, Director, Wales Violence Prevention Unit
Findings and recommendations from this evaluation were applied to Phase Two of the #SafeToSay campaign, which focused on peer-to-peer interventions by men aged 18-35. This phase of the campaign ran between February and March in Swansea, and the evaluation will be available soon.