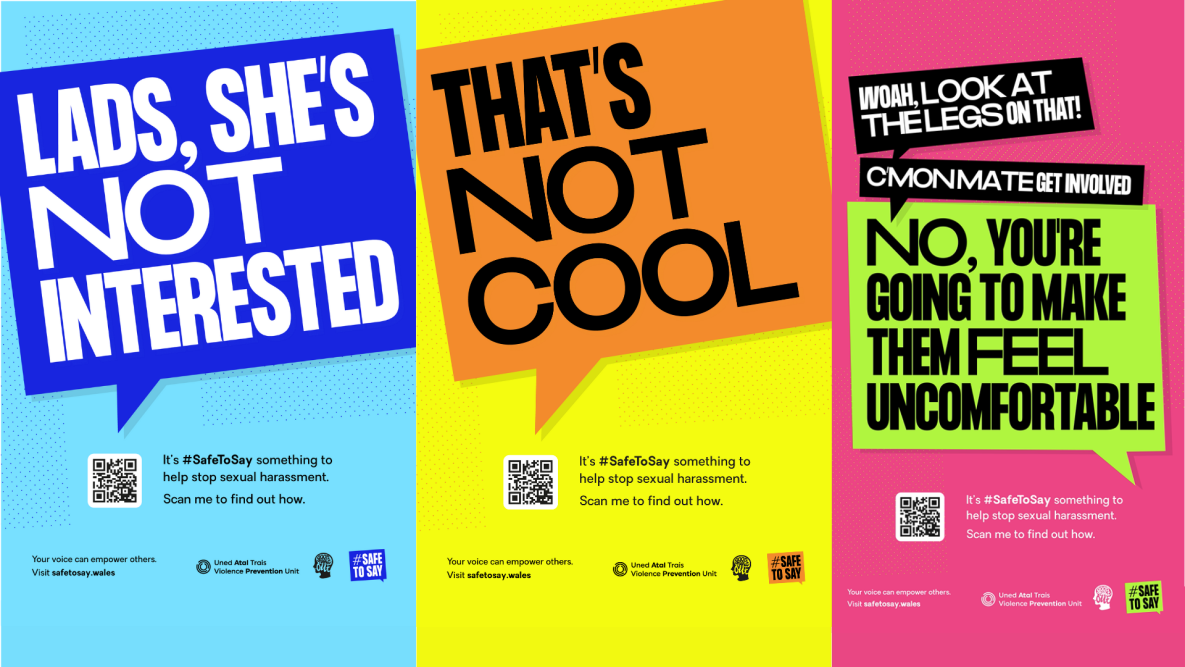 The Wales Violence Prevention Unit has published the evaluation of Phase Two of its #SafeToSay campaign: Preventing Sexual Violence In The Night Time Economy: Encouraging Men To Be Active Bystanders
SafeToSay seeks to prevent sexual harassment through encouraging prosocial bystander responses towards sexual harassment or its warning signs in night life spaces.
Phase Two of #SafeToSay was delivered by the Wales Violence Prevention Unit, with funding from the South Wales Police and Crime Commissioner, as part of the Home Office Safety of Women at Night (SWaN) fund.
The evaluation has used findings from social media and website analytics, as well as the responses to a post-campaign public perception survey completed by 231 participants.
The evaluation found that Phase Two of #SafeToSay had succeeded in highlighting the issue of sexual harassment, however it did not increase awareness of this type of violence in nightlife settings.
Social media engagement rates were significantly higher in Phase Two than in Phase One, indicating that more people felt strongly enough about the campaign to engage with it or wanted to find out more, however most comments and reactions left on campaign ads was negative.
The post-campaign public perception survey found that participants felt that the campaign had helped them know how to intervene, but it did not necessarily increase their confidence to take action.
This second evaluation of our #SafeToSay campaign shows that whilst we succeeded in delivering against some of recommendations highlighted in its first evaluation, we still have more work to do to understand how we can best engage men in sexual violence prevention.

This phase of the campaign was targeted at, and tested with, men aged 18-35. However, in the post-campaign survey, more men indicated that the campaign had not helped them recognise sexual harassment nor increased their confidence to take action.

"This report really does highlight the importance of evaluation, and it includes a series of recommendations that will support the Wales Violence Prevention Unit and our partners in developing and delivering activity that will support and encourage men and boys to challenge sexual harassment and the attitudes and beliefs that underpin it.

Dan Jones, Head of the Wales Violence Prevention Unit