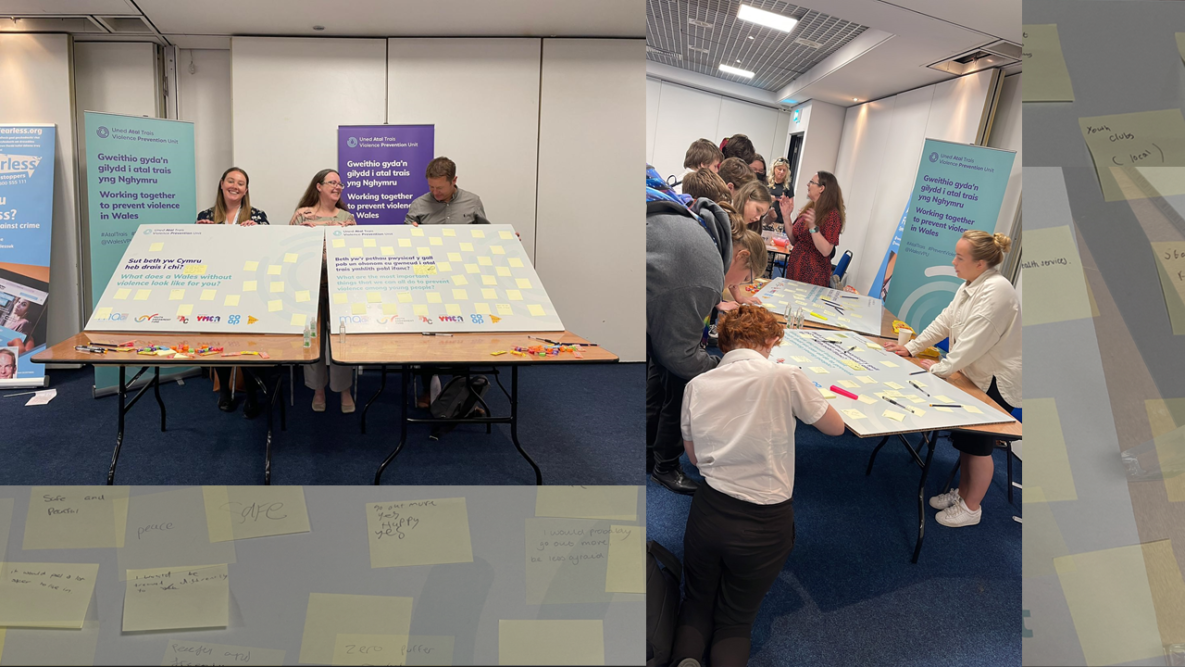 The Wales Violence Prevention Unit joined partners in welcoming over 400 pupils from across Cardiff to a knife crime prevention event at the Cardiff Motorpoint Arena last week (21st – 24th June).
The event, funded by the South Wales Police and Crime Commissioner, included a play 'Choice of a Lifetime' and an opportunity for pupils to learn more about what is being done to prevent knife crime and give their views on how organisations can better support young people to live lives free from violence.
The Wales Violence Prevention Unit hosted a stall at the event, and spoke with pupils about how their lives may be different without violence, and what they think needs to be done to make this vision a reality. The feedback from these events will be used to inform the development of the Strategic Framework on Preventing Violence among Children and Young People.
Other stalls included South Wales Police, South Wales Fire and Rescue Service, Welsh Rugby Union, Cardiff City Foundation, Childline, and Fearless – Crimestoppers Youth Service.
The play follows a young man, Justin, who has recently been released from prison, having stabbed someone when he was just fifteen years old. Justin visits his old school and recounts what lead to the tragic event with his teacher, Mr Nicholson. The two discuss how Justin could have followed a different path, with the many small choices he made leading to one ultimate decision with disastrous consequences – leaving Justin in prison and his victim's life forever changed.
The play questions why young people may decide to carry a knife, and urges the audience to consider the other options available to Justin. It drives home the fact that ultimately, carrying a knife will never protect you – it will not make you safe and it could lead to devastating consequences, forever changing the lives of you and your family.
The play will be evaluated in the coming weeks, using feedback from the children, teachers and education professionals.