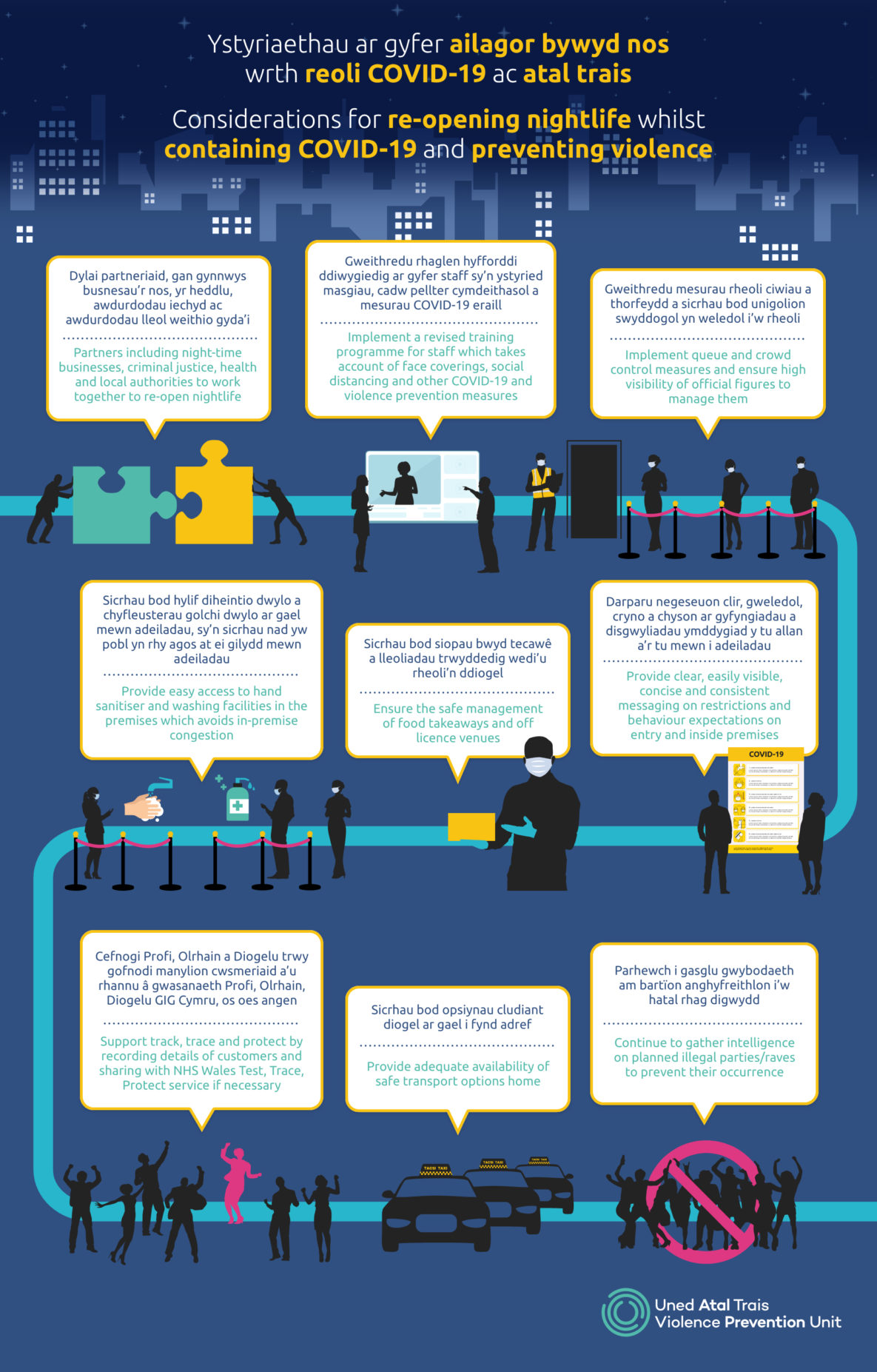 The Wales Violence Prevention Unit has published a summary of its research on re-opening nightlife whilst containing COVID-19 and preventing violence.
Pubs, bars, restaurants and cafes reopened for indoor service on Monday 3rd August in Wales. To support the work partner agencies in re-opening nightlife safely and preventing violence, the unit has conducted rapid research in partnership with Public Health Wales to assess the evidence and emerging global best practice.
The report's executive summary, published today (5th August), includes key examples of how nightlife has re-opened across the world, how measures to reduce risks of COVID-19 may impact on risks of violence and provides key considerations for opening up nightlife in Wales.
"Data indicates that during the COVID-19 restrictions, violence in public spaces has decreased yet there is evidence that nightlife and the associated increase in alcohol consumption can exacerbate the risk of violence, including person-on-person and sexual violence.

"It is important that people are able to enjoy socialising safely, and that there are measures in place to not only protect people against the spread of coronavirus but also prevent violence.

"Our recommendations provide support to the work already delivered by our partners to reopen nightlife safely and explore further opportunities for us to work together to keep people safe."

Jonathan Drake, Director, Wales Violence Prevention Unit
"It is critical we consider how violence and anti-social behaviour is controlled in nightlife during COVID restrictions and I am delighted the Violence Prevention Unit have risen to the challenge.

"Nightlife plays an important part in economic fabric of Wales and ensuring people can enjoy nights out protected from both COVID-19 and aggressive behaviour will also help restore the social aspects of life that so many people have put on hold during the recent months."

Mark Bellis, Director, WHO Collaborating Centre on Investment for Health and Well-being, Public Health Wales