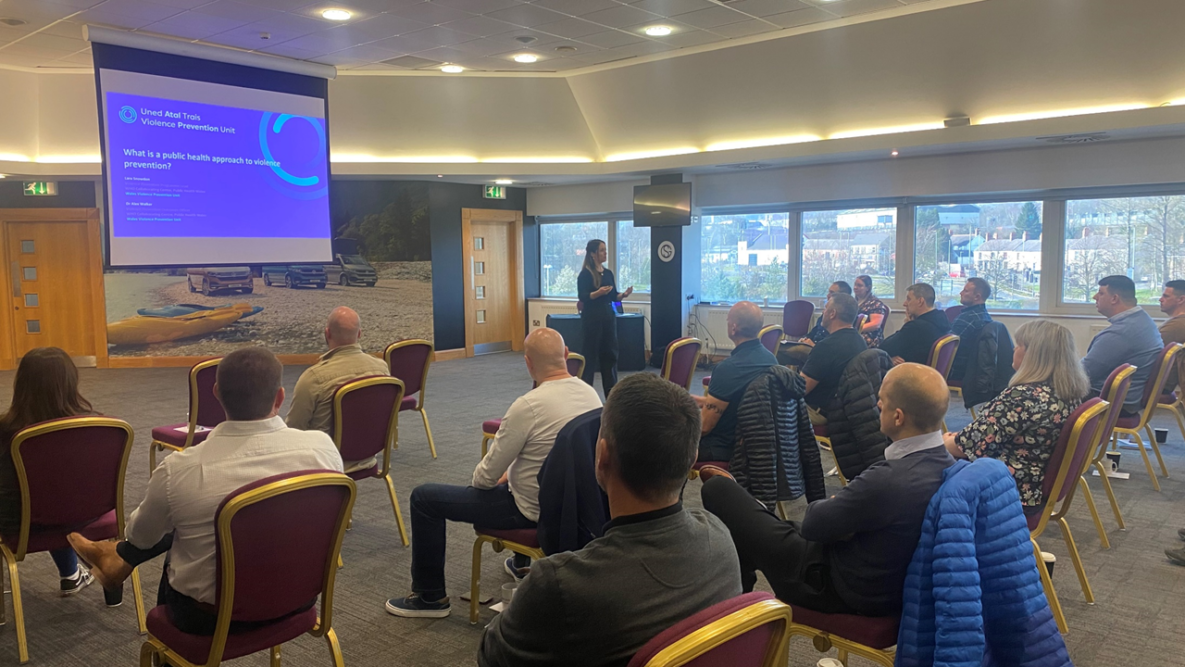 The Wales Violence Prevention Unit hosted over 60 Officers from South Wales Police and British Transport Police for the first in-person Violence Prevention Champions event in Swansea.
The Network was established in 2020 to support the implementation of a public health approach to violence prevention in the police service. It aims to provide Champions with the knowledge and resources to promote a public health approach across policing, allowing a whole system approach to preventing violence. The network also provides a forum for officers to share best practice and concerns to inform the VPU's work.
Police Officers and PCSO's are uniquely placed to identify and respond to both perpetrators and victims of violent crime, and have the opportunity to intervene early to prevent violence.

Building on a strong history of partnership working between the police and other agencies, this Network takes collaboration one step further. It enables structured engagement between Officers, public health colleagues and our broader associate membership, including those with lived experience of violence, to inform responses to violence and ensure that approaches to violence prevention work for the communities we serve.

Detective Chief Inspector Jason Herbert, Police Lead for the Wales Violence Prevention Unit
It was brilliant to experience an event where we could again meet and swap ideas with other officers and staff from across the force whilst learning from well-chosen and inspiring external speakers. To see and hear the work that Health undertake alongside our own gives some more valuable perspective of how the whole strategy and efforts fit together. I'm now following some of the speakers on Twitter and learning more since as a result and kicking off more face to face meetings with my CSP counterparts force wide.

It seemed clear to me from the engagement and questions from the attendees that the event was a great success and would have caused many a thought and conversation about what else we can contribute as Violence Prevention Champions.

The life stories of the three guests who had lived experiences with drugs and violence were thought provoking and highly relevant to the day.

Inspector Jeff Lewis, South Wales Police
If you would like to find out more about the Champions Network or are interested in establishing a similar model in your organisation, please get in touch!
Email: bryony.parry@wales.nhs.uk